Product Description

1982-89 Chevy Camaro V8 Tachometer Circuit Board. (V-8 Engine). Easy to install direct replacement. Pre-calibrated

Replacement Tachometer Circuit Boards for 1982-89 Chevy Camaro with V8 engine.
Manufactured in the USA with top quality components.
Comes pre-calibrated and ready to install.

Direct replacement for the original GM Circuit Board.
Easy bolt on installation.
Installation instructions included.
Application: 1982-89 Camaro with 5.0 Liter V8, and 5.7 Liter V8. All models. For 1982-89 Camaro V6 Tachometer Boards see: 1982-89 Chevy Camaro V6 Tachometer Circuit Board. NEW DIRECT REPLACEMENT
Installation Note: Installation is fairly easy. There is no soldering involved. The old tachometer circuit board is attached to the tachometer and oil pressure gauge with nuts.
Included are detailed step by step installation instructions with color pictures.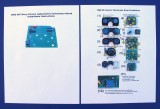 Other Details
Limited Lifetime Warranty
Product Videos
Custom Field
Application
5.0 Liter V8, and 5.7 Liter V8.
Product Reviews
Circuit board worked perfectly. I have an LS swapped 3rd gen Camaro and hooked tach lead from ecu to tach wire for cluster. Minor adjustment on calibration screw and changing ecu signal allowed my factory tach to work properly.

Great!

Very accurate. Nice instructions and support.

Replacement part look good and came on time, thank you w.c.autc

I will order more part in the future.

This is the tach repair part!

IROC Z Tach works again .I needed to do a simple adjustment to get a very accurate reading. Great tech support.

Wow, nice thanks