Posted by Support Staff on 15th Feb 2019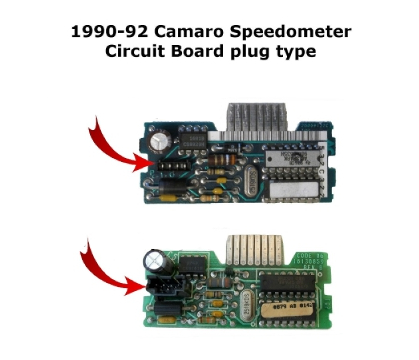 This post is to provide information on the components that may cause the Speedometer to stop working. GM has not made this information easily available. Most of it has come through trial and error and from the Camaro community.
This post is not meant as a comprehensive repair or system design overview. It is meant as an aid to begin diagnosing the speedometer problem.
1990-92 Camaro Speedometer systems changed slight during these production years.
The components in the system that should be checked are:
Vehicle Speed Sensor (VSS) - Located in the transmission.
Vehicle wiring - check for broken wires, high resistance terminal contacts.
ECM - Vehicle Speed Sensor Input: PINs B10 yellow wire (VSS positive input signal) and B9 purple wire (VSS ground), Speedometer input at the ECM: PIN B11 grey wire (Speedometer input signal wire)
Vehicle Speed Buffer (VSB) - 91-92 Camaro, TPI V8, MPFI V6, do not have a VSB. The VSB is a yellow box located either behind the kick panel on the Passenger side, mounted to the computer, or located near the Gauge Cluster.
Gauge Cluster - Printed Circuit on the back of the gauge cluster, check for burned and or broken terminal strips.
Gauge Cluster Plug. - check for corrosion between the plug and printer circuit board.
Speedometer Circuit Board - Located in the gauge cluster below the speedometer. Check for visible damage, ie: burned or swollen component. Most likely suspect components are resistors, capacitors, or the crystal oscillator.
Tips:
Use a scan tool to see if the ECM has a speed signal.
If the "Service Engine Soon" light is not on, the ECM is receiving the VSS signal.
If the cruise control works, the problem is most likely in the gauge cluster (Speedometer Circuit Board)
Also see our Blog post 1990-92 Camaro Speedometer help , 1990-92 Camaro Speedometer repair and Speedometer testing tool